It is with sorrow that I have to inform you of the passing of Jeniver in her ninety-ninth year.  One hundred in May.
She was one of our Life Honorary Members and had been an ardent committee member holding the offices of Vice Chair, Chair, Vice President and then President during the years 1998 to 2011. Jeniver also co-designed the 2001 edition of the President's Chain of Office together with Peter Foster.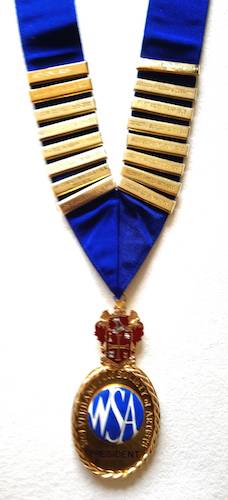 Those of you who knew her will no doubt feel the loss of one to whom the Society owes a great deal. She was influential in the way we developed as she actively encouraged involvement in the many workshops and painting days which we strive to continue today.
I would refer you to her entry in the Members' Centenary Book, for a fuller understanding of her life, philosophy and example of her work.
Celebrate her life happily and draw on the inspiration she gave to many.
Norm Keech
Chair