Saturday 11th January 2020 saw the official launch of our book publication at the Wolverhampton Art Gallery in the Alumni Room.

The book 'Wolverhampton Society of Artists 1919 – 2019' was co-written by Brendan Flynn and Keith Oram and financed by Heritage Lottery Funding.  The expertise that both authors brought to the publication makes interesting reading and marks the final chapter in our Centenary Celebrations.It is an account of the history of the Society from the time of its formation together with information on alumni featured in this Exhibition.
It is also a tribute to past members of the Society and highlights the contribution Wolverhampton artists have made over the years to the cultural heritage of their city. It includes a commentary on where the Society is now and offers a view to the future.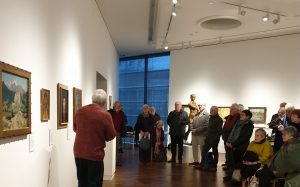 Our grateful thanks go to Brendan and Keith for their dedication and commitment to this unique publication.
Many members of the committee worked to make the book publication possible however an enormous thank you must go to Anthony Clemson for the Design and Layout of the book, complimented by superb photographs by Chris Manley.We are immensely grateful for the support of many organisations for their contributions to this exhibition and our lovely Book.
These include The Heritage Lottery Fund, The Courtauld Institute, Wolverhampton Art Gallery, Wolverhampton City Archives, Express & Star, National Trust – Dudmaston, Wolverhampton School of Art, Dudley Museum Service Collection, Potteries Museum, Stoke-on-Trent Museum, Birmingham Museums Trust,Dr Christopher Butler Bayliss, and Rose Konstan (Daughter of Annesley Tittensor).
All current members of the Society will receive a copy of the book which is also on sale at the Gallery reception at £7.00.
The book will also find its way into schools, colleges and libraries.