The first of the WSA themed sketching events at the Wolverhampton Art Gallery yesterday was well attended by members and members of the public.
The models were Keith, current President of the Society, looking dashing in Naval regalia and the beautiful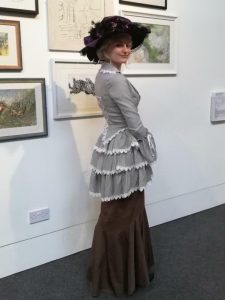 Harriet, a third year Fashion and Textile Wolverhampton University Student, who was dressed in late Edwardian costume.
Thank you to the Art Gallery for, once again, supporting the continuing celebrations of our Centenary and we look forward to holding more sketching events over the coming weeks.
Please check our website for further details.