The wind was cool but the sun was shining as the WSA party of some 39 members joined the coach at 8.30am leaving from Tettenhall Green. With excitement in the air we headed off towards our destination.
After a somewhat uneventful journey we arrived two hours later at Oxford where the prospect of the many galleries, museums and libraries presented us all with a wide variety of options. The party disembarked and went their separate ways.
Some of the members made their initial stop at the Ashmolean Museum with its wide variety of exhibits and the Jeff Koons Exhibition.
Others began their visit by calling at the Natural History Museum with amongst a wide variety of items such sights as dinosaur bones, insect exhibits and displays on different types of bacteria.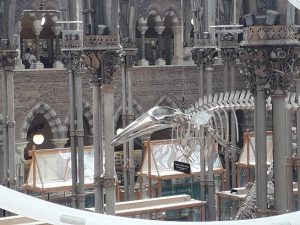 This was followed by a move through to the Pitt Rivers Museum where they were met by a veritable cornucopia of exhibits. These ranged from ancient Canadian Indian headdresses and totem poles through to obscure medical instruments. There was also an Arts and Crafts Market in the High Street too.
With such a great variety of tempting treats to explore there was much too much to cover in only a short few hours which didn't take account of the architectural delights of the colleges, all the shops and the restaurants.
We boarded the coach at 4pm tired but happy and the weather had been kind to us too. As we left Oxford perhaps some of us knew that we would be back again for a longer spell in order to sample the wealth of delights that Oxford has to offer.