Building on tradition – Batik on tissue, paper and fabric, a mixed media approach
Jenny O'leary set out (using the enormous table of work, samples and sketchbooks before her) to talk about but also to demonstrate her passion for Batik.  In the process, this presentation opened up for me a whole new way of creating textures and vibrant colour using Batik with a mixed media approach.
Jenny originally trained in ceramics, but also has interests in textiles, print making and photography all of which you can see inform her practice and makes her work exciting to view.  She helped the audience to understand the layering process she uses with tissue paper, hot wax, Milton Sterilising Fluid (bleach), acrylic inks and collage. She also works on fabric, often combining it with machine embroidery adding a drawn element to her work.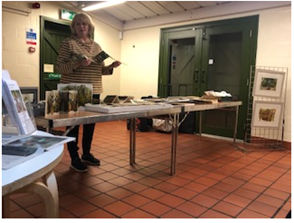 Jenny's work is inspired by the landscape of Shropshire, it's colours, patterns textures and shapes. This can be seen in her beautiful khadi paper sketchbooks and the work she produces from her sketches. Her approach is very 'freeing' and there is an opportunity to play, and experiment with quick and satisfying results. She is a member of The Shropshire Guild of Contemporary Crafts and The Batik Guild.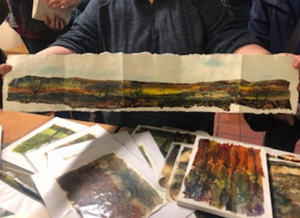 Jenny offers workshops in Shropshire and around the UK. Her workshops use different themes to help explore the possibilities of the techniques that she uses in her own work – further information is available using the links below.
http://jennyolearytextiles.com
Facebook Jenny O'Leary Textile Art