Tonal Demonstration with Sarah Stokes
(For more information and advice Sarah can be contacted via her website https://www.sarahstokesartist.co.uk ) 
We had a fabulous turnout for – one of our members even zooming from a rainy Spain! We were certainly in for a treat.
Sarah shared with us her thoughts and skills regarding the important topic of Tonal Values. Very often a piece of work will either succeed or fail depending upon the artist's treatment of tone.  Poor attention to tone leads to your work becoming bland. However, the correct use of tonal values can transform your work into an eye-catching composition. And talking of eye-catching Sarah used the subject of the human eye to demonstrate how it is done.
The f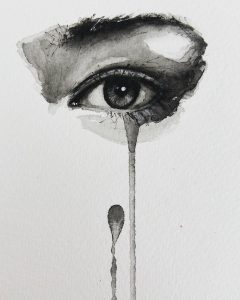 irst thing Sarah did was to add a light tone to the whole of the eye – even the 'white' of the eye which as we know is never really 'white'. The colour is all relative.  The whites look white because the tones that surround that part of the eye are darker.
The other point Sarah made is not to be frightened about going too dark early on in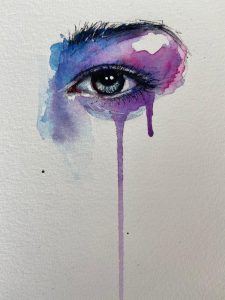 your watercolour. This medium has a tendency to dry lighter and if you are using a good quality paper darker colours can be lifted out or lightened quite easily using a scrubbing brush. As you progress with your painting you should be constantly adjusting and re-adjusting your tonal values within your composition.
Sarah completed both a monochrome and colour demonstration of the eye.  With the colour example she used Ultra-marine and Opera Rose to create a dynamic 'fantasy' effect.  And, of course, it wouldn't be a Sarah Stokes demonstration without her famous 'drips'
Sarah currently divides her time between gallery work and teaching. She teaches 2 classes a week with weekend retreats running throughout the year. Sarah has a forthcoming show planned for an exhibition at Bewdley Museum on the 14th November until 20th December, where there will be a selection of work on show, including many pieces from her students. Also watch out for tutorials on the online platform 'Domestika' https://www.domestika.org/en which were filmed recently in Madrid. These tutorials will be going live in the next few weeks.
Thank you, Sarah for sharing your Art and your clear love of your subject with us. We enjoyed the virtual tour of your lovely studios based in Arley too.