Painting without Brushes Rob Leckey- ARBSA
Rob has always painted and over a period of time his painting style has developed where he uses the paintbrushes less and instead experiments with lots of different tools to create texture and a depth to his paintings. Collage, paint, inks, scrapers, adapted 'credit cards', decorating rollers, scissors, tissue paper, p.v.a, oil and chalk pastels…… (the list is possibly endless) all find a place in Rob's vibrant impressionist landscapes.
In the first half of his presentation Rob was able to illustrate to us his methods for creating a landscape – in this case Tenby in Pembrokeshire – a favourite of many an artist and also Ironbridge another local 'haunt' of his.
Starting with washes and drips and tissue paper; Rob then moved into a collage, cutting out shapes for boats and houses, with only a little paint dabbed here and there – I think Rob picked up a paint brush twice throughout the whole process. He stated that he often finds it easier to cut out things like realistic boat shapes than to draw them.
At the beginning of the process the outcome of his efforts are at times unpredictable, Rob is using a photograph reference, which he takes himself, however the artwork is very much abstracted, particularly with colour from this picture in the final piece. In the second part of the presentation Rob showed us more of his finished work and talked about how he created them.
Rob finds experimenting with colour media and techniques very rewarding and in many of his pieces by using collage he deliberately (but not obviously) places part of a crossword puzzle somewhere in the picture for his audience to find. A quirky and fun addition which often gets his audience talking.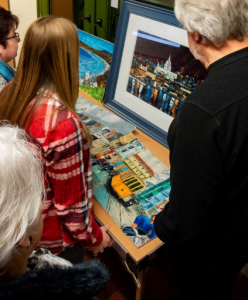 In truth however, although Rob made it all look very easy, there is much thought and skill required to envisage how an interpretation might work and it is this that makes the work so original and vibrant. The element of 'play' was certainly there but personally I do feel that a lot of thought must go into each layer of work in order to create such a vibrancy at the end.
You can see Rob's work around the Galleries and Exhibitions of Shropshire and regularly at the RBSA.  Rob also has been featured in the Artist Magazine, and he has a publication entitled 'Painting without Brushes'. If you would like to find out more Rob has a website which can be accesses here www.robleckeyart.com
Thank you again Rob for providing us with such an interesting, informative and enjoyable evening.