During these difficult times, the opportunity to draw a model from life has become almost impossible for the Artist.
However, the next best thing is a tutorial and demonstration from Tina Willis Jones via Zoom.
Tina is an expert in rendering the human form and she demonstrated, using charcoal on A2 size 200g cartridge paper, how she works through the stages of reproducing the solid form from a photographic image.  Working big gives the artist the chance to be bold trying to get a feel of the model by using sweeping movements to make marks.
The result of the first stage is a 2-dimensional armature, showing where all the joints are. These are connected by the angles made from shoulder to shoulder joints, between hip joints and between elbows.  You also need to take into consideration any curves to the spine. Using a ruler or stick you can check the angles and straight lines as you go along. Keep the marks you are making light – they are only a guide at this stage.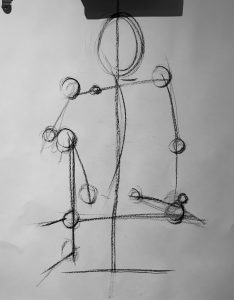 The second stage involves putting in the lights and darks – only three tones are required to sculpt the form. This is the fun bit where the solid form starts to appear. Corrections can be easily made if you are using charcoal.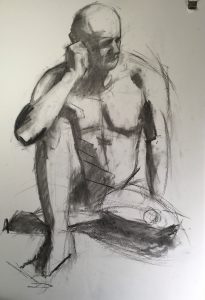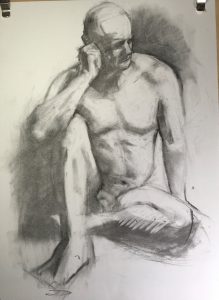 Tina took around thirty minutes to create the model in a solid form on the paper.  I think I will be taking a lot longer however I feel I now have an excellent guide to be able to tackle the task.
We are all looking forward to seeing our results on the private Members Facebook page very soon. Thank you again Tina for an enjoyable tutorial.
I am pleased to say this was very well supported by our Members and well done to all those who joined the meeting.  For some it was their first Zoom meeting but to be fair it really is simple to access.  We are lucky to have the facility to be able to stay in touch and access our Programme. It currently looks like this will be the norm for the foreseeable future.
Watch out for our next Zoom Presentation which is next week with Keith Oram. Check your Programme copy and details will be emailed shortly.