This month we were treated to a wonderful demonstration on the subject of creating animal fur using graphite and coloured pencils. Jess Pritchard is an expert with coloured pencils, and she had a few tips for any of us who would like to try out this particular medium.
Jess started the process by placing a few minimal drawing marks onto her paper. These marks were purely for guidance. They were then gently removed with a pencil eraser so that no initial marks were visible in the finished piece. The photo reference was Jess's own – a picture of two Lemurs. They had black and white fur on their faces with warm hints of browns and greys in the body.  They also had very bold and striking eyes.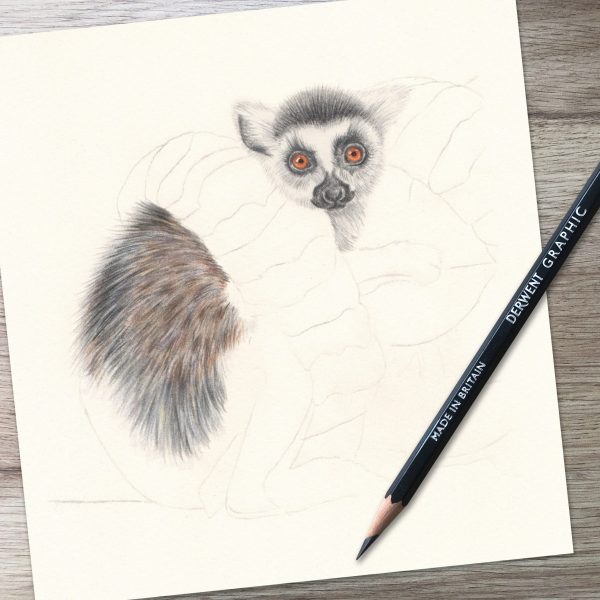 Starting with the head Jess mostly used graphite pencils.  It was important to note that you need to make lightly pressured small strokes to represent the fur and make sure that the strokes are going in the same direction as the fur. (Jess uses a paper rubber for smudging in the shapes in the earlier stages, particularly for her larger art works). With regard to drawing animals the strokes start vertically and in the centre of the head. They then move out in a circular motion to either side of the head until they become horizontal. If you can imagine a head with a vertical line down the centre then you have two semi circles either side of that line, so on the left side move around anti clockwise and then on the right hemisphere go clockwise around that half of the head. It's exactly the same with the fur around the eyes too.
Jess makes her first marks using a 3B pencil which she holds halfway down to ensure the pressure onto the paper is a light touch and she works from light to dark. The first layer does not need to be too precise. Next it's a 6B going in with darker stokes with light pressure but following the direction as before.   Jess uses the 'Derwent Graphic' range of pencils which go up to 9B.  The secret to her success with this is to apply very little pressure and to use a lot of flicks with a very sharp point.  She also uses an electric pencil sharpener to achieve the sharpest of tips to her pencils.   If you use an eraser with the graphite pencil you will need to avoid smudging the work, and a Faber-Castell dusting brush is made for the job of removing excess dust.
Jess then moved onto one of the eyes to demonstrate using Faber-Castell Polychromos coloured pencils with their really gorgeous cadmium oranges and reds. This was where we saw how the pencils were layered to achieve the correct colour. Remember that eyes will have a reflection revealed in them too.
Coloured pencils are also used to create the colour and texture on the back of the Lemur.  Jess used a warm grey palette (all the different shades of grey are numbered) together with raw umber, burnt sienna, burnt umber and dark sepia. Once again the method is light to dark and using quick short strokes in the direction of the fur with minimal pressure building up layers slowly. If you make a mistake then it is easy to correct.  Jess uses a Derwent electric eraser.
As you can see from the image the results are truly amazing. Using pencils is a labour-intensive process but as you can appreciate it is also extremely rewarding.
A massive thank you to Jess for demonstrating to her audience the intricacies of such an absorbing technique.
Over the last twelve months during lockdown Jess has also been working on a stunning project creating a series of giant petals. Her inspiration was taken from the way in which our worlds suddenly became very small but those small things such as spending time in our gardens became large and significant. The results will be on show at Worcester Cathedral 27/30th August 2021 where Jess will have her first solo show – the Confetti Exhibition, to which we are all invited. I certainly am saving the date.
Do check out Jess's website for further information  www.pritchart.co.uk