Jennifer's talent is ignited by the process of enquiry and experimentation. After graduating in 1999 with a BA (Hons) degree in textiles, in which she specialised in print, knit and weave, she began her career using unusual materials, paper, fruit, leaves and bubble wrap to name a few, which she turned into exquisite pieces of clothing.
Jennifer was not afraid to challenge herself with new ideas and materials and to question the way in which she handled them. I was captivated by her journey of discovery and the ideas that she displayed. She is proud to incorporate traditional techniques into her work such as  binding,smocking and various embroidery stitches.
Whilst continuing to perfect her skills she has successfully exhibited and completed a wide variety of commissions. After a period of time she progressed to work more exclusively with paper and stitch to produce 3D sculptures of household items, inspired by rescued vintage papers and books. For example, an old telephone directory was stitched together to become a telephone, and a pair of opera glasses were produced from pieces of old annotated sheet music. Below are images of a camera and jug made entirely out of paper.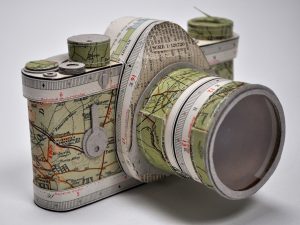 Jennifer's work is extremely delicate and intricate with enormous attention paid to the detail. She starts by formulating a pattern for her idea, working out how the pieces will fit together, before she finally stitches all the pieces together, using vintage papers. It would have been lovely to see some of Jennifer's work in person. Perhaps we could invite Jennifer to bring along some of her pieces to one of our meetings or maybe a workshop for our members when things are back to some degree of normality?
In the meantime I would recommend a visit to her studio to see her work.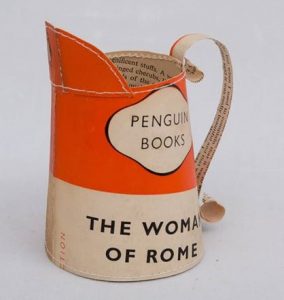 She describes herself as a living exhibit and it would be great to see Jennifer at work creating these special pieces. You will find information about her studio and courses that she runs on her website www.jennifercollier.co.uk
Thank you Jennifer for a really interesting and informative evening. Other links to Jennifer and her work are below:
jcolliertextiles@yahoo.co.uk
www.facebook.com/jennifer.collier.77
http://twitter.com/paperjennifer
https://www.instagram.com/paperjennifer/
www.unittwelve.co.uk is the link to Jennifer's studio.