It may have been a balmy, hot and humid evening and I am no scientist, but the weather is my theory as to why the technology decided to be very challenging at the start of our Guest Speaker evening, the last in our current Programme. However, with the great patience of our expectant audience and through the perseverance of our Guest Speaker, Helen Bratt-Wyton, Senior Collections and House Manager at Wightwick Manor, our evening eventually got underway. We were so grateful that it did, as we were then able to listen to such an interesting and insightful presentation highlighting the collaboration between the Mander family and the National Trust. At the same time Helen provided us with a glimpse of some of the amazing treasurers held at Wightwick Manor.
The collections at Wightwick are really seen through the experiences of the people and their stories; the Manders' knew a lot of people and had a lot of stories to tell.
Theodore and his wife Flora Mander were both interested in the arts and very much influenced by the writings of John Ruskin sharing his interest of the natural world.  Then in 1884 Theodore attended a lecture given in Wolverhampton by Oscar Wilde entitled 'House Beautiful'.  The notes taken by Theodore at that lecture can be seen at the Manor. He was so inspired by what he heard that he and Flora decided that the interior of their home, Wightwick Manor, should follow the aesthetic style and decorated with the designs from William Morris and his Arts and Crafts contemporaries. By taking advantage of mail order they shopped freely at Liberty of London and Morris and Co.
The connection with the Pre-Raphaelite collection however was developed after the house was donated to the National Trust.
In 1937 Theodore's son Geoffrey Mander, persuaded the National Trust to accept a house under the Country Houses Scheme Act. Although the house was only 50 years old and not of a style that was in vogue at the time it did represent a completely preserved relic of the Aesthetic Movement. Sir Geoffrey and Lady Mander became its live-in curators. And so began the building up of a wonderful collection of Pre-Raphaelite works which included artists such as Rossetti and Burne-Jones.
Sir Geoffrey and Lady Mander went on to actively seek out the descendants of both the Pre-Raphaelite artists and Morris family and thereby built connections and networks that led to the development of a large and idiosyncratic collection. Our speaker Helen was able to share a small sample of some of the treasures held at Wightwick and described the stories behind them.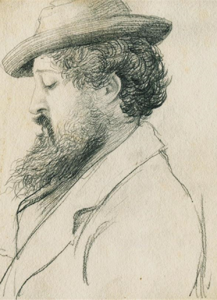 I particularly liked the story behind Millais' study painting of Effie, John Ruskin's wife, who Millais fell in love with. They went on to marry and have eight children. The painting was passed down to a grandson who had come upon hard times and so he sold the painting to the Mander's for £200.  When his fortunes changed he tried to buy the painting back, but this could not be done without an act of Parliament. Therefore the painting has remained in the collection at Wightwick.
Helen has such a wealth of knowledge and there was so much fascinating information to absorb. Indeed there are so many stories and connections Helen said she would be more than happy to welcome our members along to Wightwick and for you to walk around the house with her whilst she discussed them. It would be lovely to think that we might be able to do this in the not too distant future once life starts gets back to some air of normality.
Our thanks to Helen for battling through to deliver a very enjoyable and informative evening.
(Images are William Morris from the George Howard Sketch book and the first Pre-Raphaelite acquisition, Jane Morris by Dante Gabriel Rossetti.)