On Wednesday night Ed treated us to his story of his very busy Lockdown.
Ed has a passion for both drawing and the history of art. Although having no formal art training, he always made time for these passions even whilst working full time and bringing up a family. After retiring and with the encouragement of another well-known local artist, Steve Evans, Ed's confidence grew, and he began to regularly exhibit with Wolverhampton Society of Artists and became a full member of the RBSA. Every year Ed has a one-man exhibition and his work recently featured on the BBC, local media and in the Saturday edition of The Times.
On 17th March 2020 Ed went into Lockdown. Faced with a clear diary he began to look at William Coldstream and his studio practice. Coldstream would only work from direct observation and measuring was a fundamental part of his working method (and teaching method). Ed decided it would be a good idea to hone his skills of deep observation by recording these unprecedented times using his pen and ink skills and whatever he could see around him.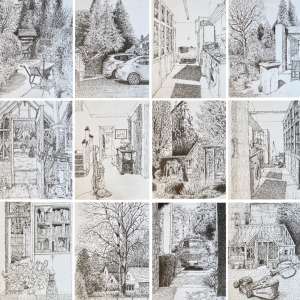 Fifty one drawings later Ed was exhausted, taking interviews with the BBC whilst his wheelie bin and vacuum had become media stars. The Wolverhampton Art Gallery were even inspired by his work to produce an online Lockdown exhibition for the people of Wolverhampton. Ed had also produced several large-scale works involving cows and architecture as seen from the Wolverhampton Ring road.  These art pieces portray the humorous and maybe unsettling incongruity between the cow and the urban setting.  The final piece was completed in monochrome blue using coloured pencil and showing a cow in the Art Gallery in front of the 'Apotheosis of Penelope Boothby' by Henry Fuseli. They really are thought provoking works and provide perhaps a trip down memory lane for anyone born and bred in Wolverhampton.
Finally, during this pandemic year Ed decided to take his own trip down memory lane. Through his love of urban sketching and the influence of a poem he rediscovered by William Wordsworth, called 'Prelude', Ed decided it would be rather a good idea, lockdown and tiering rules permitting, to go back to his own childhood and youth. This necessitated a tour around the coast of Wales. Armed with sketchbook and pencils he rented a Shepherd's Hut to use as his base. He started his journey in Monmouthshire drawing and recording castles, ships, churches, bridges, and the beautiful Welsh coastline. Memories came flooding back to him. Unfortunately, due to a mechanical breakdown of his car combined with Covid restrictions Ed has been unable to go any further with his plans and so this project is still a work in progress, but we very much look forward to seeing Ed's finished drawings of his journey when he gets the opportunity to complete them.
Thank you so much Ed for sharing your story with us. It is always a pleasure to find out what you are doing and to see the wonderful results in your drawings.
If you would like to see more of Ed's super work you can visit…………
https://twitter.com/IsaacsEd?lang=en-gb
https://www.facebook.com/Ed-Isaacs-Artist-and-Illustrator-910148779011487/