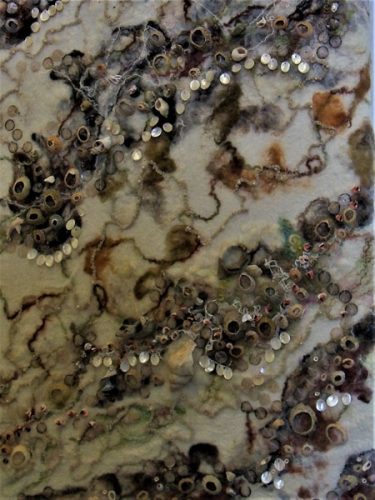 Suzanne Lawler
I was trained in Fine Art at Bath Academy of Arts in the 1960s and went on to teach for most of my working life culminating in being Head of Art at Shrewsbury High School.
I pursued various forms of art in my retirement and was introduced to the craft of felting. I have been felting for over 10 years with the Ffeisty Ffelters Group based in Shrewsbury and now divide my creative time between felting and painting.
I joined the WSA two years ago and have appreciated the life drawing and landscape painting opportunities as well as meeting other artists and trying new techniques.
My source material is always organic and I get great inspiration from the natural world. My painting is usually pictorial, but I like to be more abstract with felt. I like colour and texture, although there is often a hint of landscape or seascape somewhere.
The image shown is of a large felted panel called "Seashore" which includes felted merino wool embellished with shells and beads and is an abstraction of the detritus left by the ebb of the tide on the beach. It won the Qube Gallery Open Arts Competition in 2018.
suzannelawler@btinternet.com
Find me online