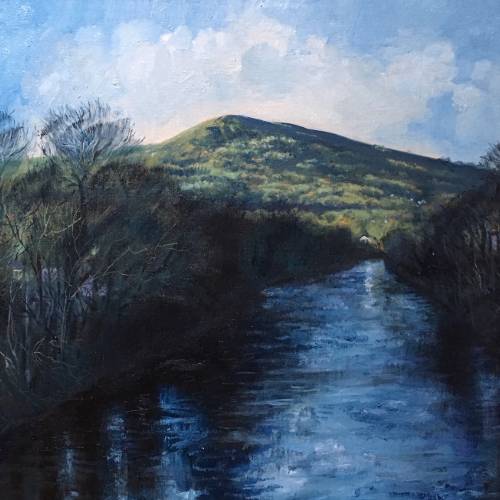 Kevin Williams
Kevin Williams is a Welsh artist currently living in Wolverhampton. 58 years of age he grew up in the South Welsh village of Taffs Well, 6 miles north of Cardiff. He was educated at Taffs Well primary school, Radyr Comprehensive school, Birmingham Art College and West Midlands College of Higher Education. He has a BA Degree in Visual Communications.
Kevin has spent many years as a professional graphic designer and photographer. He was also Print and Design Manager at Walsall Council for 10 years. Since 2014 Kevin has been a freelance visual artist initially setting up a Visual Communications company called Frank Image Ltd. In 2018 he made the momentous decision to put 100% of his working efforts to painting and drawing and since then has produced over 100 works of art.
Kevin started his professional art career winning the Newhampton Arts Centre, 'Paint the day' competition 2018. He has also exhibited twice at the 'Lighthouse media Centre' Wolverhampton in 2018. Since then he has developed an approach to producing and selling his work. "I have gone into village communities and worked on images of that community. Then I set up exhibitions in the community and invite everyone to come along. This approach has been amazingly rewarding in every way. I love the engagement with the community, to hear them talking about the scenes in my work and the relevance it has to their lives. I have also worked with primary schools in each village, spending time coaching the children and asking them to participate in my exhibition. The response is heartwarming as all of the children I have worked with have responded amazingly and have produced wonderful work about their own villages which I have then displayed amongst my work in the exhibitions. Added to all of this, I have sold 36 paintings since April.
As an artist I am developing. My use of oils is getting better and I am really enjoying the medium. I also love to work with graphite sticks on paper. I feel I am developing as an artist and the community approach has really helped me focus on subjects and themes which are relevant to my audience as well as myself.
My next exhibition is called 'Reflections of Tongwynlais' and is about the village of that name. It is to be held in the Bethesda Unitarian Chappel in the village in July 2019.
Despite my success in showing in communities I am still interested in showing in galleries. In fact I have 4 pieces accepted in the Queen Street Gallery Neath for their summer show 2019."
"The most important thing about all of this", says Kevin, "is that I am so very happy with my life now I am a full time artist".
This picture is titled 'The Taff and the Garth'. It is a place I know well, in the village of Taffs Well near Cardiff in South Wales. It is an oil painting on board. It formed part of my first solo exhibition 'Both sides of the river' which was held in Fagins Ale and Art House, Taffs Well in April 2019. The picture was painted in February 2019.
kevinwilliams1998@yahoo.co.uk
Find me online