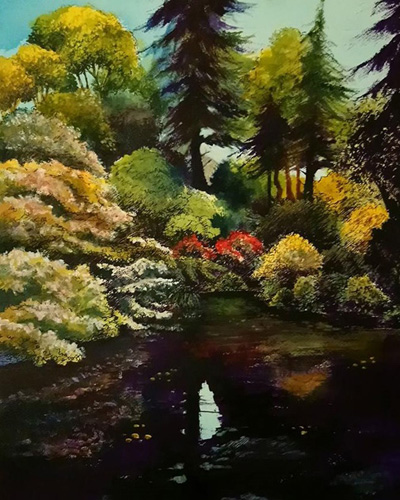 Keith Oram
I was born 23rd June 1944 in Birmingham. I studied physics chemistry and biology at A-level and then read for a B.Sc. General Science studying Botany, Zoology and Geology. I discovered I was really an artist after a year, but the science training has been very valuable over the years. My Art training began at Madeley College 1965-1968 and continued later with an in-service B.Ed. hons (art and design) 1970-73.
I began my teaching career 1968 in London and moved back to the Midlands in 1970. I taught art for 30 years, 12 as head of department.  I was a member of the Commissioning Committee for Public Art on the Black     Country Route during the  period 1993-1996. After retirement from teaching I worked for 10 years at Wolverhampton Art Gallery.  Whilst at the gallery they published an appraisal I had written of, 'The Highland Laddies' Return' by Philip Morris. Since retiring I have published a detailed catalogue of the 114 tsuba in the collection of Wolverhampton Art Gallery (ISBN 978-1-5272-1268-8). I have also had published essays and articles in art journals. I edited and wrote  articles for the  Wolverhampton Society of Artists magazine, "The Limner". I have work in private collections in Europe, Canada, USA and   Japan.
My drawings are developed from sketchbook images. I usually work with coloured ink using pen and brush. I also work in oils and watercolour.
I am currently President of Wolverhampton Society of Artists. Outside the world of art I am a keen fly fisherman and play classical guitar. I also have Dan grades in Judo and Iaido.
Find me online