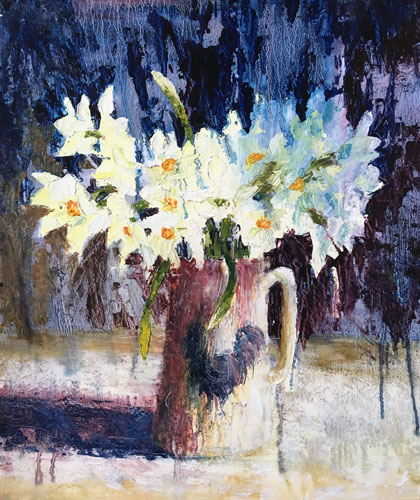 Kate Banerjee
Painting has always been a huge passion in my life – encouraged by teachers at school, then joining art classes, attending workshops, a foundation art course that opened my eyes to sculpture, design, printing and much more.  I studied part-time for a Degree in Illustration at Wolverhampton University as a mature student, and now enjoy local art groups, workshops and painting holidays whenever I can.
My style is still evolving – I experiment with different painting mediums and try new techniques – most recently working in oils using a palette knife instead of a brush.  My inspiration is often taken from holiday photographs and sketches. 
The WSA has been a source of inspiration and support – it has brought new friends in to my life as well as stretching my personal art goals through meeting and working alongside other artists.
Enjoyable, frustrating, absorbing, satisfying, always striving for the next masterpiece – painting is a constant challenge and the most wonderful pastime.
kate@kandv.co.uk