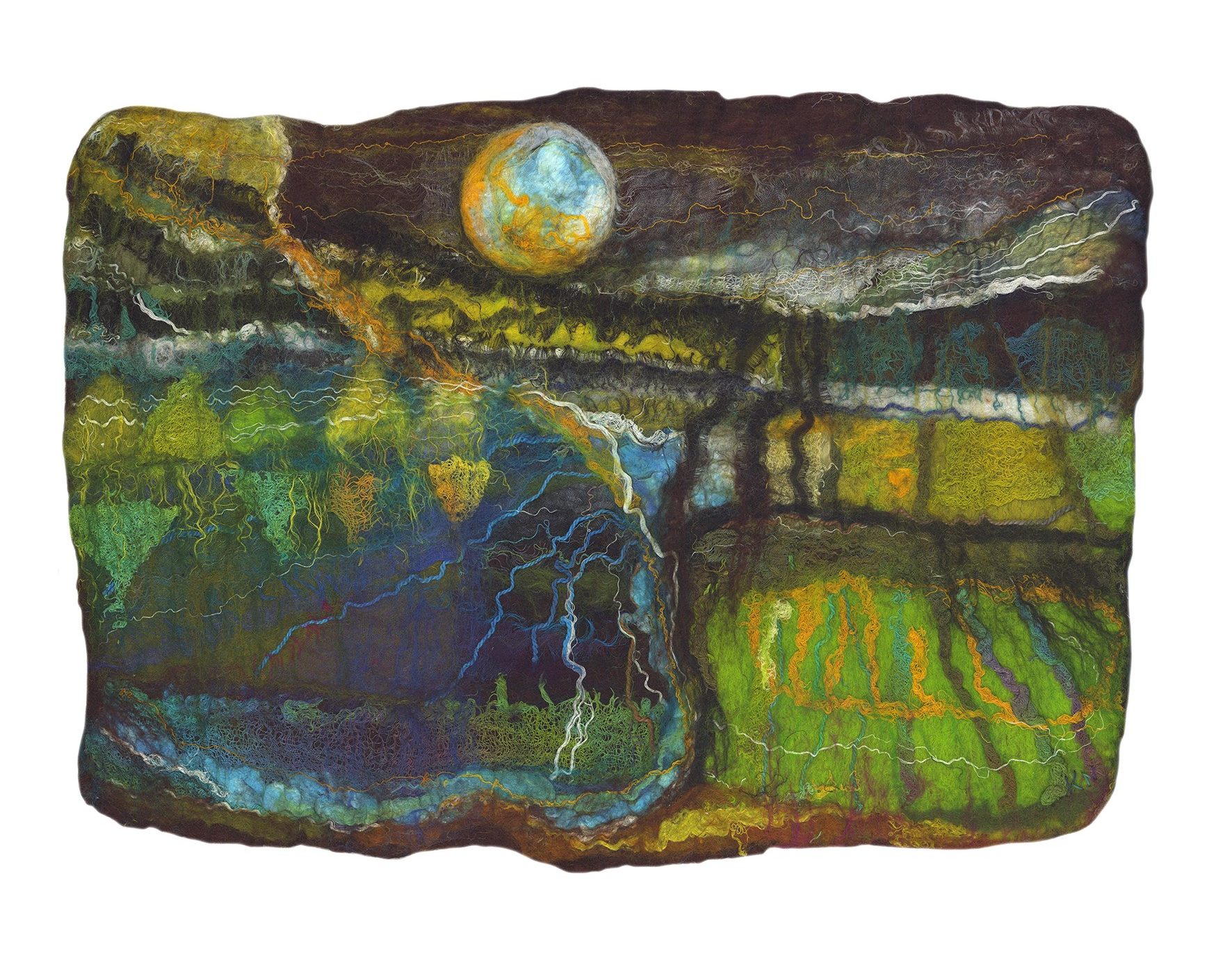 Kanj Nicholas
My art is a response to the natural world and my Sri Lankan roots. I am influenced by the bold and uplifting colours of the tropics and its rich and verdant vegetation. My love of nature comes from my childhood memories, when I would follow my mother around, as she tended to her beautiful garden. I seek out nature for solitude, healing & creativity. Nature, is the well that I draw a steady stream of inspiration from. I try to convey a sense of hope & optimism through my art; a message that none of us are immune to life's struggles and challenges, but that we can choose to be grateful for the simple blessings in our life. 
I express my creativity through a variety of art forms. My formal training in Textile Design at RMIT in Melbourne, Australia has infused in me a life-long passion for textiles. This experience has made it a natural progression to work in felted textiles. 
I have explored felted art for a number of years & continue to experiment & explore new ideas & techniques. More recently, I have been drawn to 'plein-air' painting & have been using watercolours along with fine liners to capture the details and patterns within the landscape. I am drawn to the patterns and natural rhythm of nature, which I relate to life and the way it's is forever changing & evolving. Our lives too, echo the rhythms nature; we are battered by storms & blown down by winds. But like in nature, we can draw strength from our light source or spirituality to grow strong & evolve with the many changes that life brings.
In 2017 I had my first solo exhibition, "Threads of Life" at the, Asylum Gallery in Wolverhampton, followed by a second solo exhibition, "Joy in the Everyday", at Bantock House in Wolverhampton. My next solo exhibition is planned for 2019 at The Museum of Cannock Chase. I have taken part in several group exhibitions & have recently exhibited at the RBSA Open Exhibition 2018. I am involved with the Boundary Way Arts Project and have recently been commissioned to create a series of watercolour paintings that explore fungi; a project funded by the National Lottery Community Fund.
Teaching & delivering workshops is an important part of my practice, a process that I find very rewarding. I regularly teach the art of felt making to adults as well as children at the Newhampton Arts Centre in Wolverhampton. I also deliver workshops at The Museum of Cannock Chase and Hobbycrafts, Wolverhampton.  
I look forward to growing & evolving as an artist while sharing a message of  hope through my art.
kanjana.nicholas@blueyonder.co.uk
Find me online