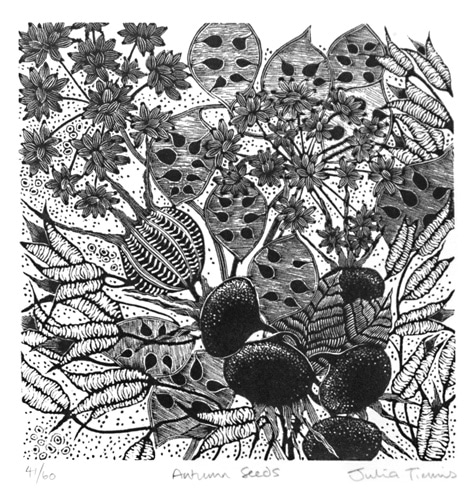 Julia Timmins
I was born in Wolverhampton and have lived there for most of my life. I have been a member of Wolverhampton Society of Artists for many years where I have served on the committee as Membership Secretary and in recent years Exhibition Secretary. I originally trained as a fine jeweller and diamond mounter and worked as a jewellery designer and production director in Birmingham's  Jewellery Quarter.
I use the skills and attention to detail developed by working with jewellery in my preferred medium of printmaking. I produce both relief and intaglio prints in various forms but have more recently concentrated on wood engravings. Wood engraving is a centuries old technique for relief print making. I engrave my designs onto end grain boxwood, lemonwood or, if they are very large, engraving plastic. Traditional, finely pointed tools are used to engrave the block, they sit comfortably in my hand and have time-honoured names such as scorper and spitsticker. Engraving is a slow process needing great concentration because once a line is engraved it cannot be undone. I prefer to draw my designs fairly loosely onto the block, which allows me to take inspiration from  the design and respond to it with the engraving tools to render the details; this is the part that I enjoy the most. When the engraving is complete I apply oil based ink to the surface of the block, place paper on top and a print is taken using my  Albion Press which was made in 1860.
I am constantly drawn to work from natural forms, plants, flowers and birds and I am continually inspired by my garden and  the surrounding Shropshire countryside where I now live and work.
In October 2018 I was delighted to be elected to membership of the Society of Wood Engravers where I have been exhibiting nationally alongside long established artists in this medium for a few years.
art@juliatimmins.co.uk
Find me online