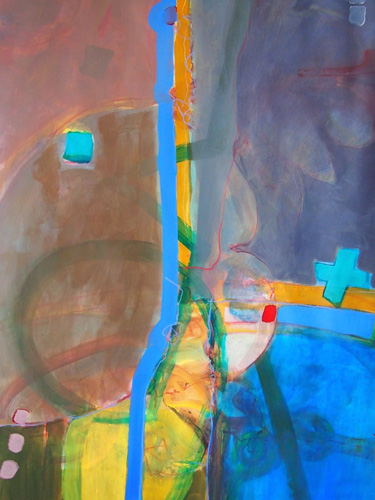 Julia Burns
When I first started to seriously paint in the late 1980's, I felt I had been given a new way of speaking to the world and I could potentially say anything and everything. This idea of painting as a language has continued throughout my practice.
My visual language has its formal elements- colour,mark, composition with which I hope to create  a painterly map of glimpses, edges and sounds- things to keep and things to leave; an elegiac soundtrack of my life.
My work takes time, lots of thin layers of acrylic paint, a process that echoes the mutability of memory- hiding,revealing and inventing- luxuriating in sheer physicality of the paint and colour.
The paintings have presence and assurance becoming both image and container, both of idea and the act of painting.
I like the idea of wandering around, the psycho-geography of half remembered places, I reference gardens ,urban places and a nostalgia for lost things- there is always a poetry in lost things.
I am influenced by British and American modernist painters of the 50's and 60's and a love of music especially Jazz. I have an endeavour to make paintings that act like music in their ability to create mood and elicit emotions.
julia.burns2@ntlworld.com
Find me online