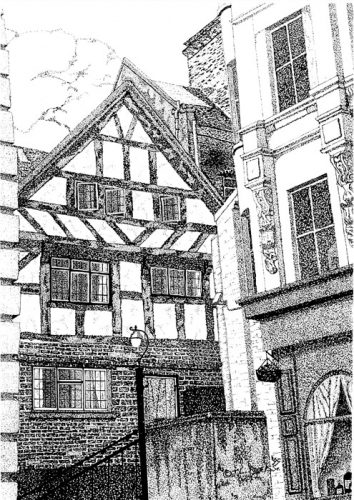 Jerry Layne Rogers Senior
Maybe I am the Society's "Black Sheep"! In 1994, when I was championed by Maureen Hunt, Tom Jenkins, and the late Harry Cartwright, I became a member of this venerable Society. They saw my work and knew, that as a member, I would prosper art-wise, although at the time I was on Florida's Death Row.
I am a cabinet maker, son of a cabinet maker, with visualisation and spatial relationship skills, that are an asset for art. I love art and encourage art to both family and friends.
I have three children, five grandchildren and one great grandchild.
After graduating from High School, I joined the Navy and volunteered for Service Deployments in Vietnam.
While doing art on Death Row, I tried various mediums, including oil, acrylic, watercolour and pen and ink in the form of rapidograph. Presently I do wood carving in the carpentry shop.
I enjoy 'texture' subjects such as an overgrown fence, old buildings or an Autumn leaf, although it could also be a person's face.
Florida Prisons are no longer allowed art supplies, so woodwork is my main medium now. Occasionally I do graphite pencil drawings for family or friends.
Art will not be denied, it will always find a way and we, as a Society of Artists, must encourage art in everyone, avoiding the lure of exclusion. Recalling that the Society exists to serve us, and not the other way around. I am proud to be a Member and an artist.