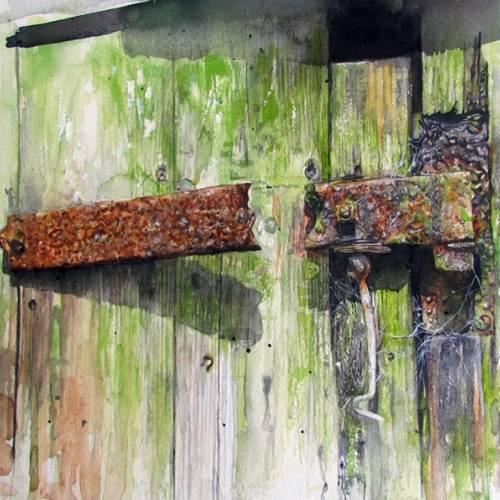 Claire Yates
After my education at High School, I attended Stourbridge College of Technology & Art and gained knowledge in various subjects. I then decided to further my education at West Surrey College of Art & Design, Farnham, Surrey with a BA(Hons) course in Textile Design. I had my degree show at Butlers Wharf, in London and finally came out with a BA(Hons) in Printed Textile Design.
I now reside in Spain but am still an active member of The Birmingham Watercolour Society, Wolverhampton Society of Artists and Worcester Society of Artists.
My paintings are illustrative and observed and I tend to paint things that really interest me. Recently my favourite subject has to be anything with a bit of rust on. I absolutely love the colour and texture that rust produces. Also, in the past I've done a lot of fruit paintings. I am absolutely fanatical about its colour and form.
I look at things, obsessively of how and what they are.
Some of my recent still life paintings have been worked in soft pastel, which has always been a medium that I have swayed against using, probably because I have only concentrated on working in enhanced watercolour. I'm in love with pastel as you can obtain a rich and vibrant colour throughout your work.
My Pet Portraits have proven very popular here in Spain as well as in the UK.
I am inspired by a number of artists: First of all, my dad, Alan Yates who is a brilliant watercolour and pastel artist. Angus McEwan-an amazing rust painter, Sam Toft – who is based in Brighton where I used to live. Pasqualino Fracasso, who is also an amazing watercolour artist and a fellow member of the Birmingham Watercolour Society. These are all but a few of my favourite artists.
claire@altcre8.com
Find me online