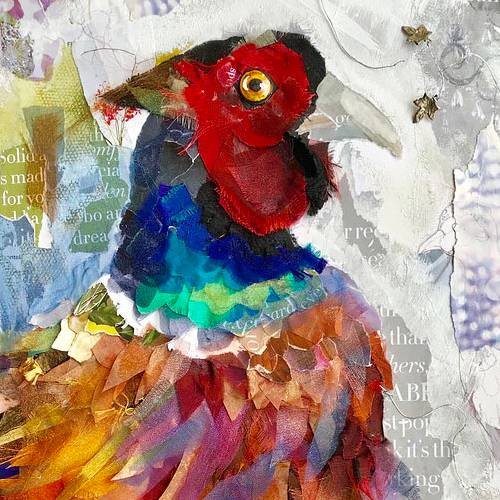 Amanda Keeton BA(HONS)
For as long as I can remember I have been passionate about Art. A lot of my work encompasses the natural world, often through the use of mixed media. I particularly enjoy using collage and typography in my paintings, exploring the written word and texture, creating artwork that often tells a story.
After completing my A-Levels, I went on to gain my Foundation in Art and Design at Stafford College and then gained a place at Wolverhampton University where I specialised in carpet design for 3 years and secured a placement at Ulster Carpets. After exhibiting at New Designers in London in my final year, I achieved a 1st Class Hons Degree in Design For Floorcoverings And Interior Textiles.
On leaving University, I freelanced for a few textile design studios before finding the job that I stayed in for 10 years at 'Gibson Hanson Graphics' as a greetings card, giftwrap and stationary designer (full colour, technical and graphic design). My greetings cards and wrapping paper could be found in many of the high street shops including Clintons, Sainsburys and Asda.
I left the Gibson studio and continued to Freelance for them for a year until the birth of my daughter in 2006. After having my son in 2009 I decided to stay at home and raise my family which has proved to be the most rewarding job!
I attend an art group on a weekly basis where I pursue my love of painting and photography and I am currently in the process of setting up my own business, 'Candypop Designs', which I intend to use as an outlet for the various products I create in my studio using Photoshop and In-Design.
I became a member of the Wolverhampton Society Of Artists in February 2019.