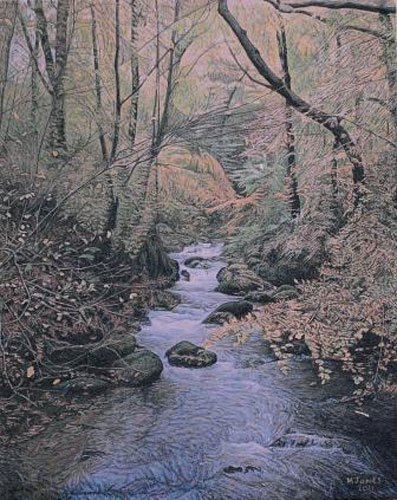 Malcolm Jones
I was born in the village of Essington, West Midlands UK.   My school and youth years having been spent in the 1960,s during a period when there was a large manufacturing base in the area.   
It was a natural move for me therefore to be employed as a Technical Apprentice working for a manufacturer of commercial vehicle transmissions (Turner Manufacturing, Fordhouses).   My initial aim was to become a Design Engineer having excelled at school in art and technical drawing (awarded the final year 'High Achievement' prize in both subjects).
The company was purchased by an American based multi-national Dana Corporation, in 1970, and I entered into their management development program, gaining post graduate management qualifications and knowledge of Japanese manufacturing concepts.
Most of my working career was in General and Operations Management, with the exception of a brief period when I was a self-employed Business Consultant.
I continued my interest in art as a hobby, although my output up to retirement in December 2011 had not been high.   I taught myself from reference library books analysing the processes an artist had utilized to produce a particular painting.   I then copied these in order to practice and develop my technique.  
My early influences came from late 18th century and early 19th century artists, particularly John Constable and some of the Pre-Raphaelites.  Recently I have become interested in the more vibrant styles and techniques of the Newlyn School of artists particularly Stanhope Forbes.
Since retirement I have joined 'Wolverhampton Society of Artists,  launched my web site and registered with online art directories and associations.   My paintings have been displayed in art exhibitions, featured in local newspapers, won a national award, and sold world-wide.
I generally work in my studio from photographs that have captured the detail reflected in my traditional style.  My original paintings are shown in the web site www.malcolmjonesart.co.uk/gallery.  I have also undertaken commissioned work.