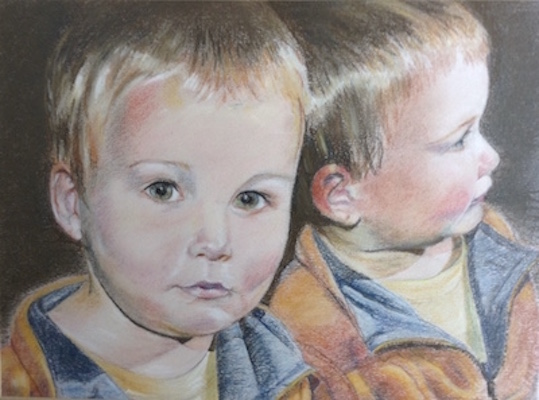 Liz Harber
My sister and I spent the first six years of our childhood on our farm in South Africa. Two maiden aunts lived in a house nearby and encouraged us to love nature and to draw from the shapes we found. The aloes, flowers, grasses and bracts of plants are some I remember.
My enjoyment of and interest in art has continued throughout my life. Retirement from teaching Mathematics in 1992 enabled me to attend local tutor-led art classes in life drawing and general techniques and media. I also attended a life class in a small group where we have had a variety of good models. This has improved my knowledge of art as well as learning from members of the groups. My drawing and painting has also improved. There is always a challenge to find the magic when dealing with the lovely fluidity of watercolour paint which is part of the enjoyment. Portraits, life drawing and still life are mostly my chosen subjects. I admire John Singer Sargent, Jenny Saville and Stanley Spencer. I have done drawing in various media, used acrylics and watercolour.
I was introduced to the Wolverhampton Society of Artists around 1995 by Peter Foster.
My husband and I have travelled in USA, Europe, Australia and South Africa and visited many galleries there as well as exhibitions in the UK where the experience of recent years has enabled me to look and enjoy with more critical appreciation.
elizabethharber4@gmail.com
Find me online
Facebook
Instagram
Twitter