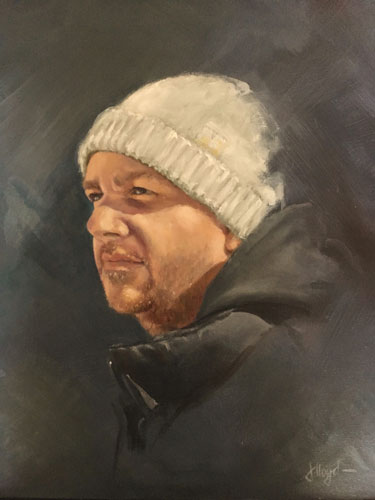 Jean Lloyd
Portraiture, for me, is an art form like no other, the ultimate in recording the most intimate of images. As a painter, I find nothing more exciting or satisfying than seeing a face emerge from my brush strokes, watching a person evolve with life and character from the canvas.
As a self taught artist of many years I have become increasingly intrigued by portraiture. I get drawn to a face, captured by an expression and feel compelled to paint. I work both from life and from photographs using quick drying oils, finding the intensity of colour and blending qualities best suit my style of painting.
Whilst portraiture gives endless scope for interpretation, I feel it gives no room for error. Embracing the challenges it presents I am spurred on in my quest to improve my skills as an artist.
I have been a member of the WSA for six years. During this time my portraits have been seen and sold in group exhibitions. I also sell privately and carry out commissioned work
jeanlloydartist@gmail.com
Find me online