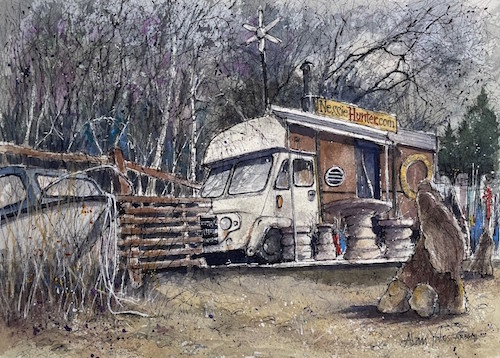 Alan Yates
ARBSA
Painter in Watercolour and Soft Pastel
Alan decided to take early retirement from many years as Design Director of a Major Façade Engineering Company in order to concentrate more on his love of Art and Painting.
When he is not painting, some of his leisure time is taken up as Honorary Secretary and Website Manager with the Birmingham Watercolour Society. He is also holds memberships with the Wolverhampton Society of Artists and the Birmingham Easel Club.
In May 2019, Alan was elected an Associate of The Royal Birmingham Society of Artists.
Alan believes he has developed his own recognisable style of work using Watercolour, Ink and Watercolour, or Soft Pastel, and constantly seeks new scenes and subjects in the UK and abroad.
Image: Nessie Hunter, Loch Lomond.
Website: www.alternate-creations.com/alan
Email: alanjyates20@gmail.com